About Pathway to Possibilities (PTP)
PTP delivers client-focused programs that create positive pathways to employment. From our first meeting with you, to finding your perfect job, we work with you to design a learning pathway tailored to your individual strengths and needs.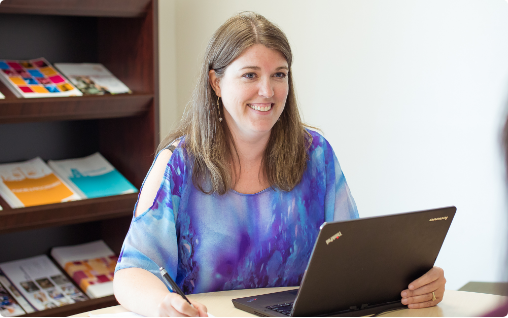 Our wonderful staff are flexible, supportive, and experienced. We know that your circumstances and your needs are unique – and that they will probably change over time. Using an integrated approach to programming, we'll help you adjust your goals and training as your skills improve. Most of all, we want you to succeed.
We believe that a strong, skilled, and sustainable workforce is key to Canada's economic future. Working closely with employers, we track changes in Canada's workforce requirements and ensure that our programs keep pace. Our extensive experience across sectors allows us to offer on-the-job training designed for your workplace and the needs of individual workers.
We are based in Toronto, offering programs to serve people in the west and east end of the city. We also share our knowledge across Canada, working with other agencies to build capacity for learner assessment and job-oriented training. Through partnerships and program services, we help providers deliver services tailored to their unique region and audience.
We are passionate advocates for systemic changes on issues we care about and support the work of other agencies committed to social justice and social change.
Because of our customized approach, we begin our support with a one-on-one meeting to understand more about your needs and equip you with the right program or programs. We hope to hear from you soon!
PTP has a variety of memberships and partnerships that allow us to further enhance the services we offer to our clients.
Active Partnerships
AlphaPlus Centre
Daily Bread Food Bank
Etobicoke South Social Services
GED Achievement
George Brown College
Labour Education Centre
Opportunities for Advancement (OFA)
Seneca College
UP Skills for Work
Woodgreen Community Services
Memberships
Ontario Nonprofit Network
Community Literacy of Ontario
Metro Toronto Movement for Literacy
ONESTEP – Ontario Network of Employment Skills Training Projects
Social Planning Toronto
Volunteer Toronto
PTP acknowledges that the land on which we gather is the traditional territory of the Wendat, the Anishnaabeg, Haudenosaunee, Métis, and the Mississaugas of the New Credit First Nation.

The treaty that was signed for this particular parcel of land is collectively referred to as the Toronto Purchase and applies to lands east of Brown's Line to Woodbine Avenue and north towards Newmarket. We also recognize the enduring presence of the Aboriginal peoples of this land.