Improve your computer skills
About the Program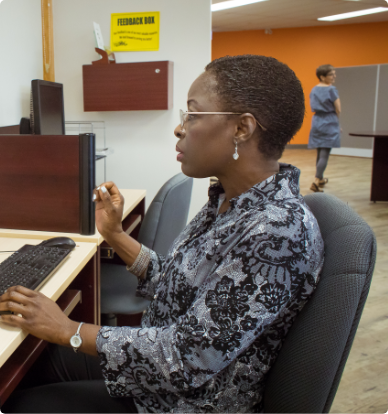 Most job searches now require you to access information and even submit your job application online. If you aren't confident in your computer and digital skills, this program could be right for you! It's a great fit for people who find it difficult to apply for jobs because they don't know how to use job search engines, fill out an online application, send a resume – or simply don't feel comfortable using a computer at all.
In this program, you will learn how to:
Use email to contact employers and send your resume
Use the internet to seek out employers, fill out application forms, and use job search websites
Use the computer to manage files, copy and paste information, and use a USB drive
Use Microsoft Word to make changes to your resume, references and cover letter
The program runs for five weeks on a part-time basis. It is free, funded by the Ministry of Labour, Training and Skills Development.

Who is Eligible?
This program is open to Ontario residents, 19 years and older. Priority is given to those with a Grade 12 education or less. Transportation support is available if you qualify.
Wondering if this is the right starting point for you? Please call us for more information, or to set up an appointment with one of our intake counsellors!