Let's Celebrate Literacy Month!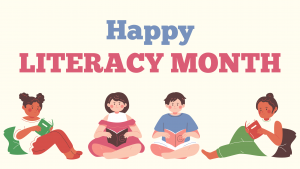 Mayor John Tory has officially proclaimed September Literacy Month (view full proclamation here)! To celebrate this momentous occasion, Metro Toronto Movement For Literacy will be hosting a variety of free and exciting online events! Click the links below to view each event and registration details:
Thursday, September 23, 10:00am-12:00pm
Thursday, September 30, 9:30am-1:00pm
Friday, October 1, 9:30am-1:00pm
Thursday, September 30 1:00pm-1:30pm
Friday, October 1, 1:00pm-1:30pm
Let's celebrate together!
Articles For Your Reading Pleasure!
PTP's Commitment to Decent Work For Nonprofits

PTP Adult Learning and Employment Programs aims to support inclusive, healthy, and equitable communities, and we know that the provision of decent work is central to creating the economic and social foundations that underpin individual and community well-being. We are, therefore,  strongly committed to championing decent work conditions and practices in our society, in our local communities, in communities across Canada, and within our organization.
Download PTP's Decent Work Charter
Learn more about Decent Work For Nonprofits at https://theonn.ca/our-work/our-people/decent-work.