A pathway tailored just for you
We recognize that each individual is unique, and each pathway must be tailored to the individual. Our integrated approach to programming allows us to support each learner in the way that best meets their needs, and adjust that pathway as the individual's needs evolve. Here are some examples of how our approach has helped learners find satisfying work – sometimes where they least expected it.
Mahmood applies skills in a new sector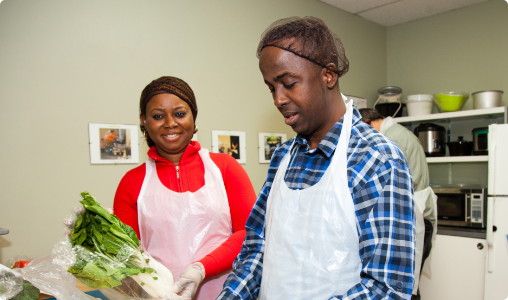 An experienced food service worker, Mahmood immigrated to Canada from India about 10 years ago but, once here, he had difficulty finding work. Unemployed for several years and now in middle age, he approached us for help in finding a job. Our employment counsellors helped him arrange interviews with several restaurants, but his age and lack of Canadian experience proved to be barriers to landing a job. Through our workshops and one-on-one counselling, Mahmood gained confidence, but his job search remained unsuccessful. PTP's Employment Services team realized that Mahmood might need to expand his job search beyond the food industry, and identified a job opportunity with a property management firm. We worked with the employer to demonstrate how Mahmood's past work experience was transferable to this new industry – and avoid his application being screened out before he had a chance to prove his worth. PTP training helped Mahmood excel in the interview and he was offered the job of assistant superintendent. Today, he works at the same company, where he and his wife manage another building as its superintendents.
Natasha joins Local 721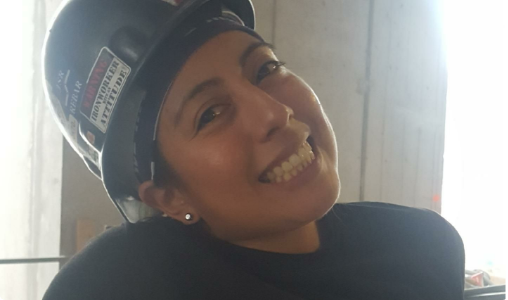 Like many youth, Natasha struggled to find meaningful employment. A few years ago, she approached PTP for help. PTP's counsellor worked with Natasha through an initial assessment to determine her level of ability and help her decide on an appropriate job goal. The assessment revealed that Natasha's interest was in the skilled trades, a field that traditionally has been difficult for women to enter. Our response was to refer Natasha to our 12-week Building for the Future program, which offers learners the opportunity to develop employability skills, set goals, explore career options, and gain an in-depth understanding of apprenticeships in the skilled trades. Natasha's counsellor worked with her one-on-one and through small group workshops, helping her to shape her career objectives and decide on next steps. Additional training helped her build her resume, learn practical job search techniques and explore possible future training opportunities. One option seemed ideal: Hammer Heads, a skill and employment-based program created by the Central Ontario Building Trades to support at-risk youth through apprenticeship career opportunities in under-resourced neighbourhoods. Natasha applied and was accepted into Hammer Heads. A successful graduate, Natasha now works for the Iron Workers Union, Local 721, earning $40/hr as a skilled iron worker. Recently, Natasha told the Executive Director of PTP how proud she is of herself and all she has accomplished. She says that that working with PTP staff, and having their ongoing support, was critical in helping her create a viable career path for herself and ultimately finding well-paid, satisfying work.
Osarague overcomes barriers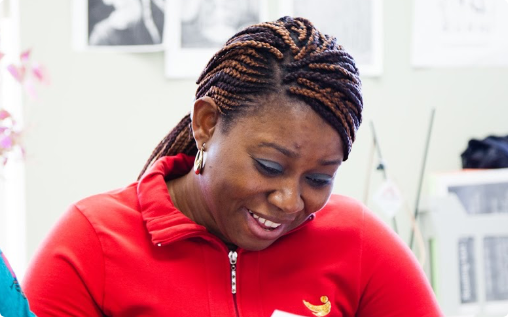 Osarague was a single parent receiving income assistance from Ontario Works. Her dream was to become a Personal Support Worker (PSW) but her poor literacy skills were a barrier to formal training in that field. She came to us for help. Our staff supported Osarague's strong desire to improve her literacy – but they also realized that her aptitude and interest in cooking could make her a good fit for our hands-on Teamwork program. They placed her on the Food Team, where she was able to learn practical skills and improve her literacy in a food service setting. Her confidence and self-esteem increased week by week, and she began to see herself as a successful worker. Every day, she brought remarkable determination and motivation to the workplace, driven by her tremendous desire to be able to read. Small successes turned into steady improvement and within months she was reading aloud at a staff meeting. Osarague's improved literacy and essential skills created a solid foundation that allowed her to progress to advanced training at the Hospitality Workers Training Centre in Toronto. Upon completion of that training, she accepted part-time work at a major hotel, where she demonstrated the same dedication and work ethic she had shown on the Food Team. That experience in turn helped her land a full-time job in the kitchen of a downtown hotel, where she drew enthusiastic praise from her employer, the chef. With these successes behind her, and her literacy skills significantly improved, Osarague was able to complete formal PSW training and become certified as a PSW. She now works full time at Bayshore Health Care – her dream job.
Sharry learns to balance work and family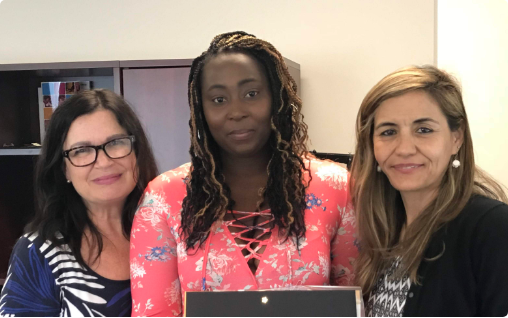 A single mother with two young children and only one previous job, Sharry recently arrived in Canada from Grenada. Her limited workplace skills, demanding home life, and natural shyness made it difficult for her to find work. Our Elevate program in the food sector proved to be the perfect training ground for her. The eight-week classroom component gave her time to think about how to balance work with supporting children, while the practical skills she learned gave her much-needed confidence and allowed her natural talents to emerge. At the conclusion of her training, our staff helped her find work as a production assistant at Kozlik's Canadian Mustard, a family-owned business that has worked closely with PTP for over 6 years. Sharry's duties include production line work, quality control, packing and shipping, and maintenance of her work area and equipment. Her strong work ethic, organizational skills, and ability to multi-task in a warehouse environment have made her a valued member of the Kozlik's team. PTP programs have also made a huge difference in Sharry's home life, helping her learn how to balance her family responsibilities with her new job. She reports that she is now excited about life and the possibilities ahead of her – not only for herself, but also for her children, who watch her navigate successfully through daily life.
Stephen adapts to the Canadian workplace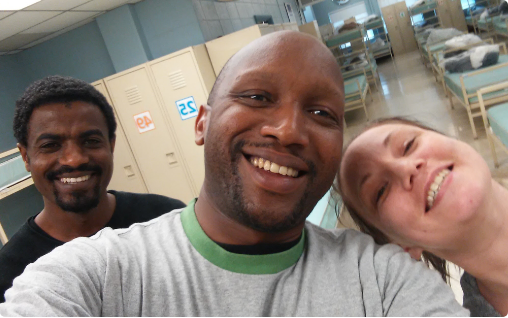 Stephen had been in Canada only a few months when he enrolled in our Building for the Future program, to explore the skilled trades. Over the next few weeks, he was able to identify a great career path – welding – but soon realized that his math and English skills weren't at the level required to enrol in welding training. Our Literacy and Essential Skills program was perfect for Stephen's goals, and after a few months of strengthening his literacy he was able to begin his welding education. Before long, he realized that he would need to find a "survival" job to support himself during his training. Staff referred him to PTP's Employment Services, where he got the support he needed to find a temporary job and become comfortable in Canada's workplace culture. In July 2018, Stephen successfully completed his welding training, and returned to PTP's Employment Services for help finding a permanent welding job. He is now successfully employed as a welder.