Earn your high school equivalency certificate (GED)
Before you begin: program update
We are not taking applications for our six-week GED Achievement Coaching program right now. That program does not have a date set for the next session.
In the meantime, if you would like support in preparing for the GED in our regular upgrading classes or would like to talk to someone about your options, fill out the form below.
We will update this page when we have a date for the next GED session.
Find out more
What is the GED?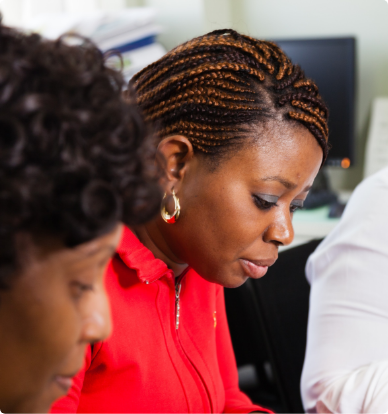 The Ontario High School Equivalency Certificate (the GED) is recognized as proof of high school equivalency in all Canadian provinces and territories and in all states and territories in the United States. Employers, universities, colleges, and Ontario apprenticeship programs recognize the GED as equivalent to the OSSD (Grade 12). The GED certificate is issued by the Ontario Ministry of Education.  
If you haven't finished high school, obtaining the GED could help you obtain a job or rise higher in your current employment. You'll gain confidence knowing that you have passed this important educational milestone. You obtain the GED by writing five standardized tests administered by a trained provider. In most cases, the GED tests are the quickest way to a high school certificate. At PTP, we help you prepare to write these tests through our specialized coaching program.  
The first step: assessing your knowledge level
When you come to PTP, an intake counsellor will assess your current knowledge level using the GED Readiness Assessment. The results will determine how ready you are to write the GED tests.  
If the assessment shows that you are ready to write the tests now, we will enroll you in the GED Achievement Coaching Program. You'll work with an experienced adult educator to boost your test-writing skills and gain confidence in preparation for GED testing.
If the assessment shows that you require further training or upgrading before you can enter the coaching program, one option could be to enroll in our Academic Skills Upgrading program to strengthen your skills. Your counsellor will help you make the decision that works best for you.
GED Achievement® Coaching Program
The GED Achievement® program consists of six small-group coaching sessions, each 2.5 hours long, spread over a six-week period. These sessions focus on the skills common to all or many of the GED tests, rather than on specific curriculum material. Working closely with experienced adult educators, you will learn reading, writing and test-taking strategies. You will also be given homework assignments to sharpen your skills in all areas. Finally, you'll write the 3.5 hour GED Official Practice Tests.  
After the Official Practice Tests have been evaluated and discussed with you, our team of analysts, coaches and administrators will continue to monitor your progress while providing encouragement and counselling.  
When you're ready, you can apply to write the GED tests at an Independent Learning Centre test site. Our personalized approach rewards our candidates with a very high success rate on their GED tests.  
This is a fee for service program. If you are receiving social assistance, speak to your case worker about funding availability for a GED test preparation program.
Schedule
The program runs for 8 weeks, throughout the year. 
Who is Eligible?
This program is available to Ontario residents who are 18 years of age or older and have been out of full-time high school for at least one year.
Ready to take this important next step on your career path? Please call us for more information, or to register for our GED Readiness Assessment!