Earn your high school equivalency certificate (GED)
What is the GED?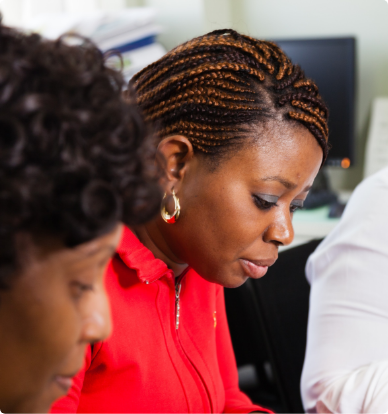 The General Education Development (GED) certificate is recognized across Canada as proof of having high school-level knowledge and skills. It is sometimes called the Ontario High School Equivalency Certificate. You obtain the GED by taking five standardized tests in reading, writing, mathematics, social studies, and science. The tests are administered by a trained provider and the Ontario Ministry of Education issues you a certificate. Depending on the program or job requirements, a college, university, or employer may accept the GED in place of a high school certificate.
How we help you prepare
At PTP, we help prepare you to write the GED through our free upgrading programs. Instructors work with you on GED-related material and our staff offer counselling and guidance on your pathway to GED. If you are not sure what your options are, contact us to talk about what you can expect from our program.
Start dates, program costs, and taking the test
At both locations, classes are ongoing, so you can start at any time. The classes are free; our program is funded by the Ministry of Labour, Immigration, Training and Skills Development. When you are ready, you can apply to write the GED tests at an Independent Learning Centre test site. We do not do the testing or give certificates. Our staff will guide you to the next steps.
Update on GED testing in Canada (August 2023)
GED testing in Canada will end after May 3, 2024. You must register to write your GED test by January 31, 2024. You must schedule your test date by March 31, 2024. Please see the links below for more information:
Choose from online or hybrid classes
Online only option
Registration through our west location at 5353 Dundas Street West.
Mondays (10:00 a.m. to 3:00 p.m.), Wednesdays and Fridays (11:15 a.m. to 3:00 p.m.)
Live classes on Zoom with an instructor
Topics: reading academic texts, GED math, essay writing and grammar (option to take select classes)
Fill out the form below and our staff will contact you about online only classes:
Hybrid option (online and in person)
The hybrid option is run out of our east location at 815 Danforth Avenue.
Mondays: online with instructor-led classes on Zoom
Tuesdays and Thursdays: in centre classes
From 1:00 p.m. to 2:30 p.m.
Topics covered: English and math
Fill out the form below and our staff will contact you about hybrid classes: